Well its like 2 in the morning where i am and im pretty bored, so i decided to write something here. Many of you know the new Nine Inch Nails CD Year Zero. Some people are saying (including the NIN wiki) that its based on futuristic events that will happen in 2022. I can't really say much because i havent really looked into it. However one thing that captured my attention is the burst of static at the end of "My Violent Heart". If you have the CD Year Zero, you would be probably saying "what? what static? there isnt any?". Well thats because the static was taken off the album version. The original "leaked" version contains the sudden static at the end and can be found on your everyday P2P Programs. But anyways, the NIN Wiki said something about the static revealing a message if read through a spectrogram. I tried to see if i could get anything out of it, and this is what i got.......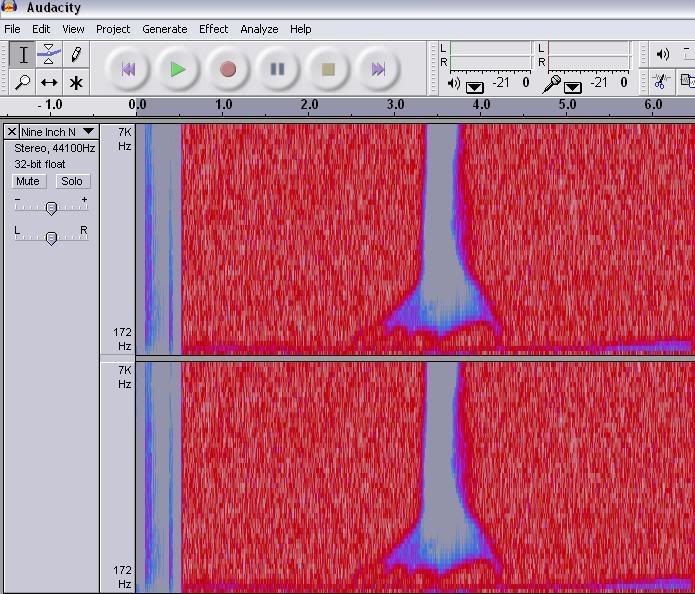 as you can see, the static reveals a hand like figure representing what is known as "the presence" which is shown on the album cover. Freaky isnt it? Now if you would like to hear what this static sounds like,
http://www.youtube.com/watch?v=xJ-1Zbeq6nQ
and just fast forward to the end. And if you wanna try the spectrogram thing out, just download audacity and the static version of My Violent Heart. If you need a copy of that song, email me
luminarydj@gmail.com
because i dont know what the rules are for giving out mp3s over the forum. Catch ya later
_________________
I LOST!
20/20 Surgery: Beta Version Available